In 2017-18 we worked directly with 22.3 million people worldwide, a 15% increase on the previous year for just over 5% more spending. For every euro received we spent nearly 70 cents on our humanitarian, development, and campaigning programs worldwide. 
70 cents per Euro on saving and improving lives, on fighting inequality to beat poverty, and on building a better future for all.
      Total funds available  2017/18*           

Total expenditure

2017/18
                1,042 million euros                                              1,079 million euros
*Figures represent CONSOLIDATED income across the Confederation (19 affiliates plus the Oxfam International Secretariat).
Income & Expenditure - the ins and outs
Where the money comes from
Over 80% of our funding came from Institutional and Public fundraising.
What we spent it on
Almost 70 cents per Euro went directly to our humanitarian work, programs, and campaigns: to improve lives.
Where we spend the money
We work with people, communities, partners, and allies on six continents building a better future for all.
*The category "Other" includes Regional Level Allocations for: Africa; Horn, East & Central Africa; Latin America & the Caribbean; as well as program spend in Western Europe and North America.
Our reach and scale - where your money goes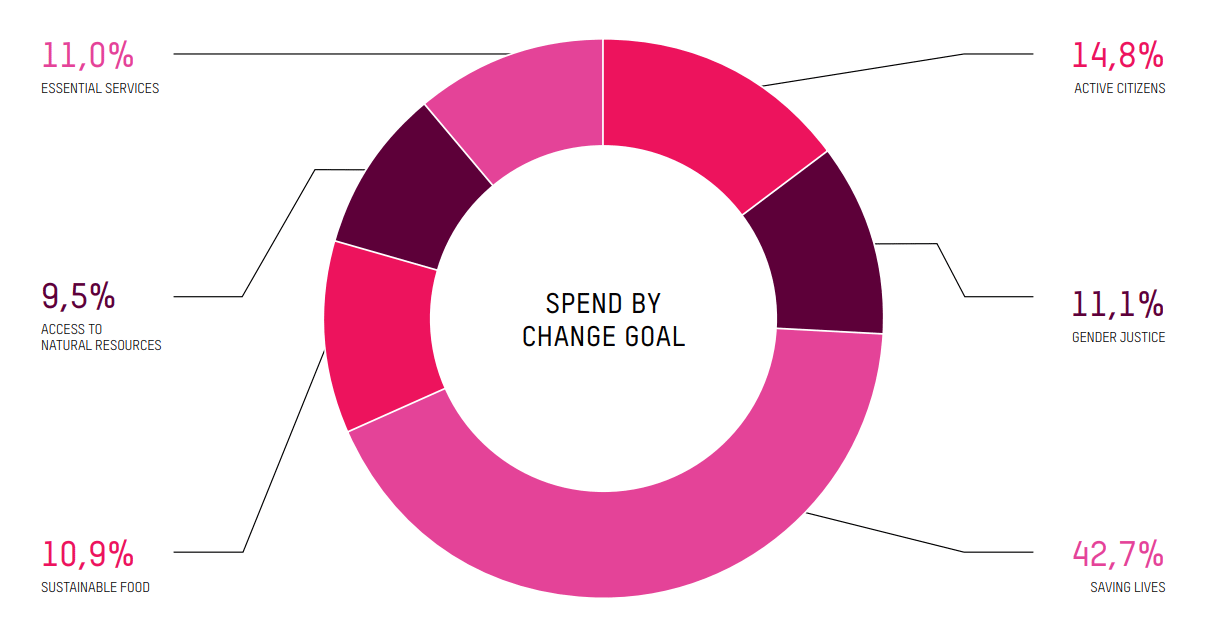 The empowerment of women is key to the fight against poverty, they are often the first to go hun-gry, and the last to have value attached to their work. In 2017-18 we spent 82.5 million Euros continuing our work to advance Gender Justice. We worked with 640 partners on 235 projects, reaching 750,000 people. We have worked with them to raise their voices everywhere, to improve their access to essential services and resources, to empower them in achieving sustainable livelihoods to lift themselves out of poverty, and to bring an end to gender-based violence.
Working with 1,110 partners we reached 2.2 million people through 470 projects as we fought for a fair and sustainable food system that works for everyone, and a fair share of the natural resources we all need to live. We called on supermarkets, traders, and governments to do more to end the poverty and suffering behind the food we eat. We asked them to stand with us alongside small-scale food producers and the vulnerable workers who so often remain forgotten by those at the other end of the food supply chain. We showed them things are Ripe for Change.
Our Commitment to Accountability
One of the underlying purposes of coming together as Oxfam International is to spend less and achieve more. 
As an organization, we are committed to holding ourselves accountable and being transparent in all areas of our work; including to our donors and beneficiaries on how we spend your money. It is only by reviewing our spending against results that we can learn and do even better in the future.
Our review processes and internal control systems are carried out by professionally qualified staff. We run real time evaluations and thorough program reviews, we welcome discussion and input from all quarters. To examine our spending, results, and evaluation processes more closely download our annual report and our Program Evaluation. 
We are also a member of Accountable Now, a group of Civil Society Organizations committed to openness and accountability in all areas of their running and work. Every two years we report publicly on our economic, environmental and social performance in line with Accountable Now's Reporting Guidelines to an Independent Review Panel.