Burundi is one of the world's poorest countries and over a decade of war has left the country in a continuing state of instability.
The political situation in 2015 badly affected the already weak economy and left vulnerable people in an even worse situation. Election tensions led to weeks of violent protests and tens of thousands of Burundians left their homes, fleeing into neighboring countries, particularly Tanzania and Rwanda.
The relocation project
Nduta refugee camp in Tanzania has recently reopened in an effort to relieve overcrowding in Nyarugusu refugee camp, the third largest refugee camp in the world. Aid agencies need to move fast, the relocation of refugees began on the 7th of October, at the start of the rainy season, when some 20,000 people were still living in mass shelters on a flood plain .
According to UNHCR 27,500 Burundian refugees are being moved from Nyarugusu to Nduta and then on to another camp, Mtendele, between October and December 2015.
Before leaving Nyarugusu Refugee camp refugees undergo medical check-ups ina makeshift clinic. They are then  bused to Nduta camp, where they stay in mass shelters for a few days before being relocated again into family tents.
New arrivals, coming from places such as Mabamba and Katanga are taken directly to Nduta camp. Between the 5th and 11th October, there were 2,566 new arrivals to Nduta, taking the population of the camp up to 3,887 people.
Burundian refugees arrive at the reception centre at Nduta camp, having travelled for around an hour and a half by bus from the previous site, Nyarugusu.
Approximately 500 people were moved on the first day of relocation.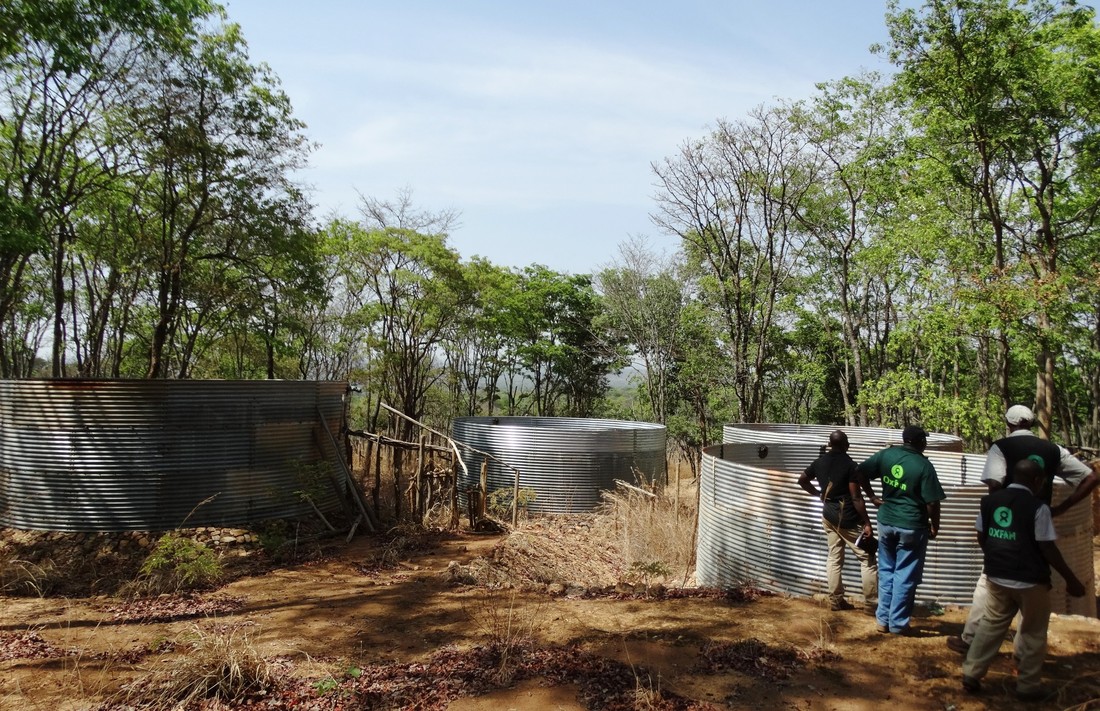 Oxfam staff inspecting existing water tanks in Nduta camp.
Water facilities needed to be rebuilt in order to support the thousands of Burundian refugees who arrived as Nduta camp was reopened. 
A boy washes his hands using an Oxfam hygiene station in Nduta camp.
As part of our water and santitation response Oxfam has installed hand-washing stations in Nduta camp. Due to the limited supply  of clean water on the new site, creating a hygienic environment is one of Oxfam's key priorities to support the newly arrived refugees.
Our teams are already on the ground in Nduta refugee camp and are providing material and technical support to deliver life-saving clean drinking water, construct latrines and to educate the refugee population about the crucial importance of good hygiene in preventing disease. 
An almost constructed Oxfam water tank. It can hold 95,000 liters and serve more than 10,000 people when full.  
To provide water and santitaion faciities in Nduta we are working in cose collaboration with UNHCR and TWESA, a local partner. 

Photo credit: Mary Mndeme/ Oxfam