We have started our relief efforts in Nepal following the devastating earthquake that hit the country on April 25th. We are working in camps and in hard to reach rural areas to bring clean water, sanitation and emergency supplies to those in need of them.
The UN estimates that 8 million people, more than a quarter of the population of Nepal, have been hit by the crisis. Thousands of people are displaced from their homes.
We have been working in Nepal for years. We aim to provide aid to at least 350,000 people. 
Thousands are living in tents or sleeping in the open
Photo: Shristi Rajbhandari
Around 34,000 people are living in makeshift government camps in the Kathmandu Valley. Thousands more are sleeping in the open, too scared to return to their homes for fear of further tremors.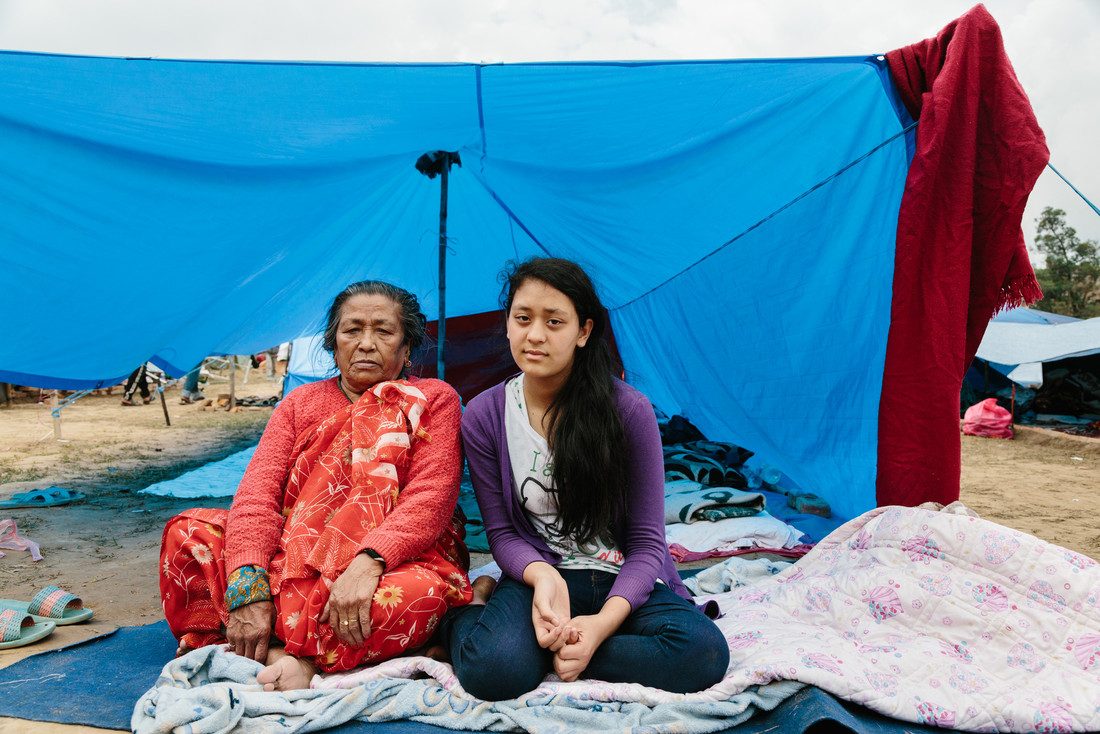 Photo: Aubrey Wade / Oxfam
Elsa (13, name changed) sits beside her grandmother Dhankumari. Their home in Sundar district of Kathmandu collapsed during the earthquake, killing Elsa's mother. They have taken shelter in a camp located on an army ground. "We are penniless and have no water or food and no toilets."
Photo: Aubrey Wade/Oxfam
At Tundikhel camp, people living in temporary tents and shelters made from tarpaulin battle heavy afternoon rains. The start of the monsoon season is expected to hamper relief efforts. In such a situation, safe water and sanitation facilities are vital.
Tundikhel camp - providing clean water and sanitation facilities
Photo: Aubrey Wade/Oxfam
Oxfam volunteer 23 year old Shekhou Khadka, works to off-load latrines being delivered to the camp. He is one of 500 volunteers trained by us to react in the event of an earthquake, during an urban risk management program.
Photo: Aubrey Wade / Oxfam
"I'm sleeping under canvas outside our house but my family are safe. I became a volunteer because I wanted to serve my community. The big challenges that lie ahead are supplying water and health care and the scarcity of food", he explains.
Photo: Aubrey Wade / Oxfam
Other Oxfam trained technical volunteers, erect a water tank. They are assisted by volunteers from the Netherlands, tourists stranded after their flights were cancelled, and members of the Nepali armed forces.
Photo: Aubrey Wade / Oxfam
We have also started to build latrines.
Hard to reach areas - assessment and communications
Photo: Andrio Naskar
After 17 arduous hours on the road, our team from Bihar, India, finally reaches Gorkha, the earthquake epicentre. We are now working to meet the needs of survivors desperate for food, water and shelter.
You can help us to save lives
Photo: Pablo Tosco/Oxfam
Our teams in Nepal and across the world are mobilized. 5.5 tons of water, sanitation and hygiene material is prepared at our warehouse in Barcelona.